Archive
It's Time to CELEBRATE!  
This month marks Siena Soap Company's 10th Birthday and our founder, Mary's Birthday, too!  So naturally we thought we'd celebrate with some FREE goodies because Siena Soap Company would not be possible without YOU!
We are grateful for your business. Thank you for supporting our small business, family and mission to offer affordable high quality all natural, handmade and safe skincare products.  When you support us you support a women owned business, the community of Minneapolis and chemical free products.  So let's celebrate!
Place an order now through 

this Monday

 over:
$30.00 receive a FREE Lip Balm
$50.00 receive a FREE Soap Lift
$75.00 receive FREE Shipping and a  Soap Lift
$100.00 receive FREE Shipping, a Lip Balm & a Soap Lift
Hurry While Supplies Last!
 Introducing the newest additional to the Siena family…
We are so excited to announce that have added Soap Lifts to our line.  A stylish way to dry and extend the life of any bar!  The Soap Lifts are made in the U.S.A of a durable, recyclable, multi-directional bioplastic that allows water to drain and air to flow beneath bar soaps. This unique design prevents soap from absorbing excess water, allowing your soap to last longer. They can be used in soap dishes, on shower shelves, or on counter tops. Cleans remarkably well by simply holding it under running water and giving it a few squeezes. Learn more HERE.
Happy Birthday to my beautiful, loving, brave and courageous mother, Mary! Thank you for all you do for our family, business and community! What a blessing it is to be your daughter and business partner.  I can't wait to see where the future brings us.
Experience the Difference
www.sienasoap.com 
You asked…

We listened. 
Please welcome back…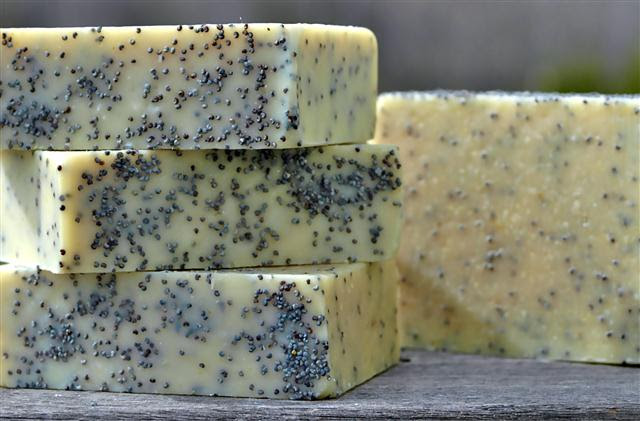 Kitchen Scrub &
 

Body Exfoliate

 

 


20% OFF  

Now till 10/16/16 

Do your hands often still smell like last nights dinners ingredients or your last mechanical project? Try our gentle, yet scrubby all natural kitchen bar back by popular demand. It will get all the dirt and grime off while soothing and moisturizing your skin. It also doubles as a body exfoliate if you dare! Organic cornmeal along with Dutch Blue Poppy Seeds were added for their "scrub ability" factor! Cocoa Butter and Avocado Oil were incorporated for softening your skin. A fresh clean scent also awaits you with the aroma of Rosemary and Sweet Orange essential oils. 

Great for Gardener's, Mechanics, and for rough skin areas like your feet. 

But don't take our word, here is what people are saying:  

"  This is my favorite soap ever. After cooking in the kitchen with strong ingredients like fish or garlic, I simply wash my hands with this bar and they smell wonderful and not like my families dinner!" 
-Shelly 

"  I'm very particular about how I exfoliate my skin and this bar has exceeded my expectations. It not only does a wonderful job at removing my dry and flaky skin but also moisturizes and soothes my skin at the same time!" 
-Lisa 

"  I work in an auto shop and this is the only product on the market that can get my hands clean at the end of the day without spending all night scrubbing my hands. I highly recommend it!"  
-Joe
Fall is here and we have lots of fun events lined up for you! Stock up on your favorite  Siena Soap goodies and get a head start to your holiday shopping! Check out where you can find us  HERE.
Did you know we are on Instragram? Follow us to get a sneak peak at what goes on behind the scenes and WIN FREE Siena Soap product! This week we have a fun give-a-way going on. Follow us @ sienasoapco
FREE Shipping ALWAYS on orders over $75.00
Select the "Free Shipping" option at check out on any orders $75 or greater. Or you can always pick up your order in Blaine, MN if you live in or near the Twin Cities. Just select "Customer Pick Up" option during check out process.